Product Description

BLADE 350 QX3
The Blade 350 QX3 drone is one of several intermediate drones for those who are getting into drones for the first time or for those with experience . The Blade 350 QX3 measures 21.7 x 13.5 x 8.6 inches (55 x 34 x 22 cm). The Blade 350 QX3 drone has approximately 15 minutes of flight time per charge, and can be flown outdoors with a 330 foot range (100 meters). Multiple flights modes includes the Safe Mode, designates a flight area that your drone must remain within. Compatible with GoPro cameras and FPV flying, this drone gives the pilot a great platform to capture excellent aerial photography.
Video: In Action
Here's a few videos of the Blade 350 QX3 in action.
FEATURES
Summary
Safe Technology holds the drone position stable with self leveling, using GPS and altitude sensors for hover
GoPro Mount is included with your purchase of the Blade 350 QX3, GoPro not included
Multiple Flight Modes: Smart Mode/Aerial Photography Mode/Return To Home
Smart Mode create a geo-fence restricted flight range, Safe Mode Stick Relativity great for beginners
Aerial Photography Mode perform
One Touch Return Mode returns your Blade 350 QX3 to the ground safely
DX4 Transmitter easy functionality, Safe Technology and Gimbal Control Switch
Geo-fence restricted flight range default at 100 meters are always adjustable
Intuitive Programming Interface displays variety of in-flight telemetry data
CG02 App compatible with iOS/Android, watch FPV real-time video on your mobile device
Flight Time of 15 minutes on a single charge
Optional Accessories includes additional batteries, propellers, Landing Gear
Safe Technology
The drone also features a GoPro Ready Mount, a mast mounted GPS, SAFE technology that holds the drones position and keeps it stable. Safe technology or, sensor assisted flight envelope, makes the Blade 350 QX3 a great cinematic platform. Both flight modes of Smart Mode and Aerial Photography Mode feature self leveling, using GPS and altitude sensors to hover. Activating the Return To Home stably gets your drone back to the point of take-off.
Flight Modes
The Blade 350 QX3 has multiple flight modes including Smart Mode, Aerial Photography Mode, and Return To Home. Each mode utilizes the SAFE technology for stability, giving flexibility in the pilots applications. Additionally, the Return To Home is a great safety feature if you lose control, lose sight during flight, or connection is lost with your transmitter.
Smart Mode
The Blade 350 QX3 also features smart mode, perfect for users new to flying an intermediate drone. In smart mode users can create a box that the drone will not be able to fly outside of. Safe mode also allows the drone to be flown in whatever way the control stick is pushed as opposed to the drones orientation. This is called Stick Relativity. Despite the orientation of the drone, if it's spinning or banking steeply, pressing the transmitter stick to the right for example will always send the drone in the right direction. This is a fantastic beginner mode, or safety mode for all skill levels.
The SAFE mode also prevents the aircraft from flying too close to the pilot, which is a great safety feature.
Aerial Photography Mode
For experts the Blade 350 QX3 features aerial photography mode, turnng off safe mode and allowing for much steeper bank and pitch angles for your aerial photos and videos.
Turning off Stick Relativity, the pilot isn't constrained within the SAFE circle and so the potential flight range or distance is maximized. You can perform faster maneuvers, perform steeper banks or pitch angles, faster panning and tracking shots in high energy action shots.
One Touch Return
The one touch return to base is a controller button that when pushed will automatically fly the drone back to where you took off and land it there, perfect for beginners who may lose control more easily.
Flight Transmitter
With a DX4 transmitter using the 2.4Ghz technology that has become the industry standard for quadcopters. The simple controls make flying the QX3 easy. For ease of stability and maintaining the perfect position, you can just let go of the sticks. When the sticks are in neutral, SAFE technology stabilizes the 350 QX3 and holds position until you are ready to fly somewhere else.
This advanced signal processing technology provides superb range and interference protection, especially in 'noisy' environments where a lot of 2.4GHz systems are in use at the same time. If the transmitter loses connection with your drone, the Return To Home function will automatically be performed. The pilot can rest assured that the drone won't crash when a connection is lost.
The Gimbal Control switch lets you use the throttle stick to tilt the camera up or down, or the drone based on the situation. If you switch to Gimbal Control during flight, your Blade 350 QX3 will suspect throttle control and hold altitude while your gimbal adjustment is made. After 5 seconds throttle control will return to the drone. For even further control, you can simply cycle the switch again to Gimbal Control. On the ground Gimbal Control doesn't have a time limit function, so adjustments can be made without restrictions before you fly.
Flight Boundaries
The default geofence for the Blade 350 QX3 is set at 100 meters distance away from the pilot, and 50 meters above the points where the motors started. You can always adjust these boundaries with the included programmer software.
Intuitive Programming Interface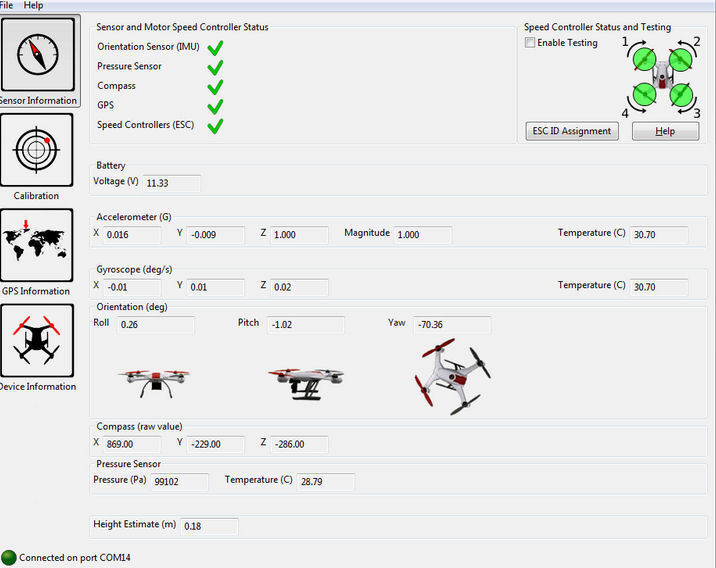 This free PC programming interface makes monitoring systems, adjusting settings and calibrating sensors as easy as point and click.
Sensor Information Screen
– See status of all sensors and speed controls at a glance
– Check battery voltage and accelerometer operation
Calibration Screen
– Calibrate accelerometers and camera gimbal
– Review instructions for compass sensor and DX4 transmitter calibration
– Adjust geo-referenced flight boundaries
GPS Screen
– See number of available satellites and signal strength
– Verify latitude, longitude and altitude indications
– Verify GPS accuracy
Device Information Screen
– See programming software version
– See quad firmware version and vehicle ID
– Update firmware
CGO2 APP
You control the CGO2 GB via its built-in 5.8GHz Wi-Fi link using a compatible iOS or Android device.
Activate Shutter: Start and stop videos or snap photos on the fly.
Watch It Live: View live streaming video in near-real time.
Flight Time
With a flying time of only 15 minutes per charge we recommend buying additional batteries if you plan to fly this drone a lot so you can avoid long waits for charging.
Additional propellers are also recommended if you are a beginner and likely to crash the drone more and possibly break the included ones. Additional batteries and propellers can also be purchased.
Our most popular add on for this drone is the Landing Pad, perfect for mastering control of your drone with.
Drone School
Still not sure what drone is for you? Check out our Drone School, filled with buying guides to make sure you pick the perfect drone for your use.
WHAT'S INCLUDED?
Your purchase of the Blade 350 QX3 includes:
Blade 350 QX3 drone
Spetrum DX4 Transmitter
E-flite 3000mAh 11.1V Li-Po Flight Battery
E-flite DC Li-Po Battery Charger with AC Adapter
GoPro Camera Mount
4 Extra Propellers
Manual
You can find our Free Flying Guide here, featuring step by step exercises designed to help you learn to fly your Blade 350 QX3 drone.
PARTS AND ACCESSORIES
You can find many Blade 350 Parts and Accessories compatible with the Blade 350 QX3.
CONTACT
Contact support@uavsystemsinternational.com or use the live chat below if you would like help learning about configuring your Blade 350 QX3 drone purchase.