Product Description

PARROT BEBOP 2
The Parrot Bebop 2 provides full-digital image stabilization technology allows the drone to take professional stable and clear aerial footage. Shoot in 1080P HD video and 14MP Photographs in a variety of formats with 8GB storage system. Equipped with a new fish-eye lense, you can capture images even in low light environments. With an improved battery life of 25 minutes on a single charge, you can capture the perfect aerial imagery!
Video: In Action
Here's a few videos of the Parrot Bebop 2 in action.
FEATURES
Forget The Remote Controller: You Only Need A Mobile Device/Tablet
Video streaming and telemetry data in real time to your smart phone
180° vision control on mobile device
Achieve flight time of 25 minutes on single charge
Extremely lightweight at 500G and compact design
GPS integrated for effective performance
Capture 1080P HD video and 14MP Photographs
3 Axis Gimbal Stabilization system
New 180° Fish-Eye Lens
Easily share all your beautiful footage
Variety of safety features for peace of mind
Fly optimally in all weather conditions
Free Flight 3 Flight Planning App is an optional purchase
Compatible With FPV devices and SkyController
Your Mobile Device Is Your Remote Controller
Forget about the standard remote transmitter, all of your flight controls and video adjustments can be made via your mobile device using free software. Intuitive and easy to fly for all skill levels, you can view live telemetry flight data in real-time. Altitude, height, speed, navigational direction, distance from pilot, are a few on-demand metrics that are shown on your device. Perform complex flight maneuvers on your touch screen mobile device!
Real-Time HD Video Streaming Right To You
Available in real-time on your mobile device is an HD video stream from your Parrot Bebop 2 camera. A perfect clear image transmitting up to 300 meters away from the pilot.
The SkyController is an optional purchase that improves the operating and transmission range up to 2 km.
180° Vision Control
The Parrot Bebop 2 camera provides ultimate flexibility to navigate your camera with 180° vision control to ensure you can always get the perfect angle. With touch controls on you device you can tilt the camera based on pilot preference.
Flight Time
Achieve a high performance flight time of 25 minutes on a single battery charge. Shoot video, capture photographs, perform complex flight maneuvers, or navigate scenic environments, the skies the limit! The Parrot Bebop 2 achieves extender flight time due to it's remarkably light and compact design.
Lightweight and Compact Design
Weighing in at 500 grams, this is an extremely lightweight device. Small enough to fit inside a typical backpack makes transportation easy. Performing flips and banked turns with a minimalist exterior design improves the pilots overall performance.
Integrated GPS System
Accurate stability and performance starts with the integrated GPS system that communicates with your mobile device. Controlling flight altitude and return to home functionality the improved GPS unit is integrate to flight performance.
1080P HD Video / 14 MP Photographs
Your Parrot Bebop 2 is capable of capturing phenomenal and professional quality aerial footage. Shoot 1080P HD video and 14 MP Photographs during your 25 minute flight time. Optimizing camera settings and specifications are always available in the free software on your mobile device.
New Fish-Eye Lense
Improving upon it's predecessor the Parrot Bebop, the new fish-eye lens works to improve camera lighting even in low light environments. The neutral angle of the camera has been revised so you capture more ground footage and less sky, and now you can film at 90° to capture the ground below.
3 Axis Gimbal Stabilization System
Prevent unwanted camera movements with the 3-axis digital gimbal stabilization system. In cohesion with the integrated camera, the gimbal will keep all footage perfectly stage from start to finish. This stabilization mechanism happens without any user input needed, so all skill levels are able capture stable video the first time!
Easily Share To Social Media
With sharing in mind, your 8GB storage capacity can be shared from the intuitive software. Edit the footage you've captured Upload to social media sites and share your adventures with the world!
Safety Features
Integrated with safety features include automatic return to home, automatic propeller shutdown if a collision occurs, and a powerful rear LED to determine direction. Flexible 6″ propellers will automatically stop spinning at the instant a collision occurs to minimize potential damage. These included features will protect your investment, prevent serious personal injury and improve your flight experience.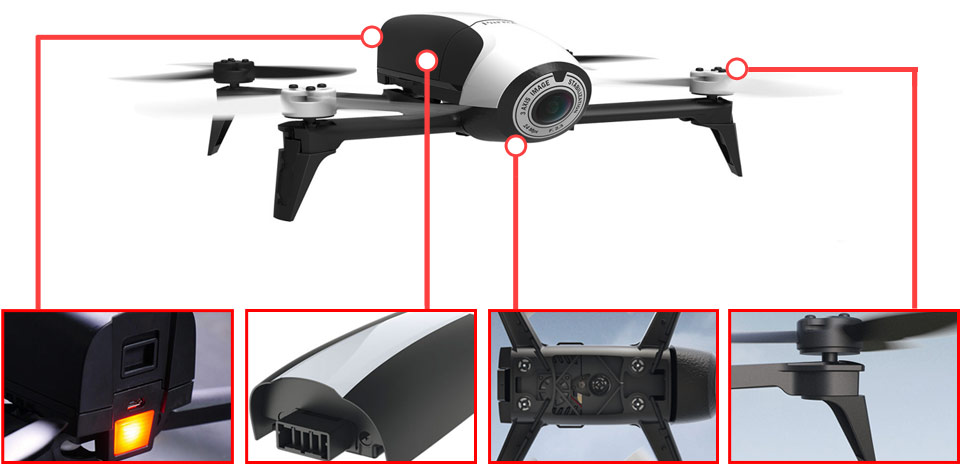 Fly In Any Weather Conditions
Your Bebop 2 is capable of operating at high performance even during moderate wind resistance and at high altitudes. The stability is also improved with the simultaneous use of 7 exterior sensors that facilitates accurate altitude hover.
FreeFlight 3 Software
An optional extra purchase for Parrot Bebop 2 pilots is Freeflight 3 software. You can utilize Flight plan, an automated flight planner using crossing points. Prepare your flight on your smart phone or tablet by positioning waypoints on your screen to be executed and let your drone do the rest.
Compatible With SkyController And FPV
Improve your experience with the Parrot's own SkyController, a hand held device that mounts your tablet or smartphone device. An optional purchase, the SkyController gives you the power of dual hand-held joysticks and improved range up to 2 kilometers. Dual joysticks simulate a remote transmitter, and combine with FPV glasses using the HDMI input to expand your flight experience!
Thanks to its optimized and secure Wi-Fi connection, the Skycontroller is the most suitable solution for long-distance flights with video streaming. The range of the Bebop Drone can reach up to 2 kilometers!
*Both the SkyController and FPV devices are sold separately*
Drone School
Still not sure what drone is for you? Check out our Drone School, filled with buying guides to make sure you pick the perfect drone for your use.
WHAT'S INCLUDED?
1 Bebop Drone 2
1 2700 mAh battery
1 charger + cable + US/JP, UK, EU, ANZ adapter
1 USB cable
8 propellers
1 propeller assembly tool
1 quick start guide
PARTS AND ACCESSORIES
Let us know via the chat function at the bottom of the screen if you would like to add any accessories such as additional batteries or propellers to your order.
PARROT BEBOP 2 SPECS
14 megapixel "fish-eye" camera
Full HD 1080p video stabilised on 3 axes
Unique digital image stabilisation system
25 minutes of flight time with 2700 mAh battery
Live video streaming on your smart phone or tablet
Contrôle de la vision à 180° sur votre smartphone ou tablette
180° vision control on your smart phone or tablet
Designed with safety in mind: flexible propellers which lock in the event of contact
Powerful rear LED light visible from a long distance
Latest generation GPS built-in to control flight altitude and automatic return to the take-off point
Dual core processor with quad-core GPU
8gb flash storage system
Easy to take control with the Freeflight 3 application available at the Apple Store and Android
Connected to Drone Academy to keep track of all your flights and share your videos, photos and navigation data
Structure
4 Brushless Outrunner motors
Glass fibre reinforced (20%) PA12 and Grilamid structure
Connectivity
802.11a/b/g/n/ac Wi-Fi
Wi-Fi antennas: Dual-band MIMO with two 2.4/5 GHz dipole antennas
Transmission power: up to 21 dBm
Signal range: 300m
Video
Camera with 14 megapixel CMOS sensor and Sunny 180° fisheye lens: 1/ 2.3" aperture (6 optical elements)
Video stabilisation: digital system
Video resolution: 1920 x 1080p (30fps)
Photo resolution: 4096 x 3072p
Video encoding: H.264
Photo format: RAW, JPEG, DNG
Internal Memory: 8Gb Flash
Performance
Maximum horizontal speed: 16m/s
Maximum climbing speed: 6m/s
CONTACT
Please contact us at support@uavsystemsinternational.com or speak to one of our live chat agents that can answers any questions you may have regarding this particular item.